Safety Inspection Software
Safety Inspection Software - Some Customers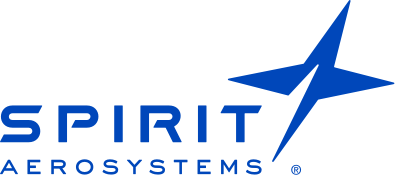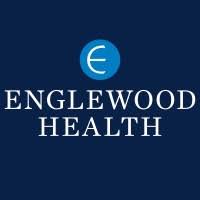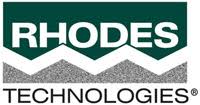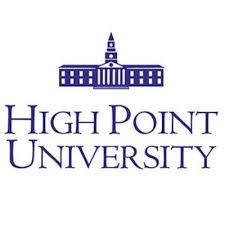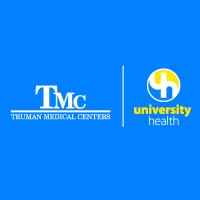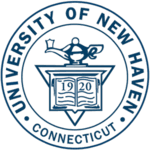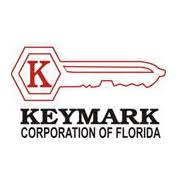 Case Study - The Benefits of Implementing Inspection Compliance Software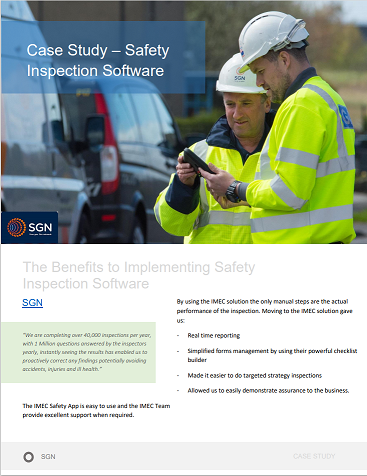 How Will Safety Inspection Compliance Software Help Me?
Getting Started with IMEC's Safety Checklist Software.
IMEC provide everything you need to implement the solution.
On boarding
There's nothing to Install. IMEC will send you a link with your logon details for the system.
Download the App from the Store and Logon. Select the QR Code to start App.
We train your staff. Training covers everything within the IMEC Safety Checklist Software solution. We use the train the trainer approach.
Support
We provide you with full support. We get the system up and running as fast as possible.
Other Features
There is no limit to the type of inspections that can be performed. Flexible Inspection categories gives the ability to manage all compliance inspections.
Types of Inspections
• There are Unlimited Inspection Types. Perform Safety Audits and Inspections, Workplace Inspections, equipment inspections. Inspection Types give an easy way of adding New Categories. Examples are 5S Inspections or Working at Height Inspections. Get better insights into overall company performance. Manage all inspections, audits and corrective actions.
Mobile App
• IMEC's Mobile App runs on all devices, iOS, Android and Windows 10. The App works both online and offline.
•  One Mobile App that records safety inspections via a simple and easy to use interface. Firstly, the solution can be used as  Extinguisher Inspection Software. Secondly, to improve workplace safety inspection. Thirdly, and most importantly a complete compliance inspection solution.
Manage Corrective Actions
• Tracking of corrective actions eliminates the need for spreadsheets. Also Improving the efficiency of safety meetings.
• Create work order from Corrective actions. Send work orders to maintenance or facilities management software.
• Be audit ready. Be compliant with regulations. Visualize Inspection data. Manage Corrective Actions. Track failures against codes and regulations.
Inspections and Reporting
• Inspect By Area, to save time and money. Easily inspect all items in an area or location.  Inspection Scheduling plans the next inspection. For Daily, Weekly, Monthly or annual inspections.
• A Full History of Completed Inspections is always available. Be compliant with regulatory codes, OSHA, NFPA, EPA.  Manage your organizations compliance inspections.
What types of Organizations use IMEC's EH&S Inspection Compliance Software ?
Any organization can use IMEC's EH&S Inspection Solution solution. The system will manage all your EH&S inspection programs. Customers use the software in:
Food
Distribution
Facilities Management
What Can I Inspect with the Mobile App?
IMEC's Mobile App can be used to inspect anything. Use cases include EH&S, Life Safety, Fire and Workplace Safety Inspections. The Forms Builder allows user to create custom inspection checklists. Examples are:
Safety Device Inspections
Asset or Equipment Inspections
Ladder Inspections
Crane Inspections
Hoist Inspections
Lanyard Inspections
Fall Protection Equipment Inspections
Inspections of Safety Harnesses
Personal Protective Equipment
Self-contained breathing apparatus (SCBA) Inspections
Reduce The Compliance Effort. Use A Mobile App to Simplify All Inspections & Audits
IMEC's Mobile App can be used to manage all inspections. Firstly, as an EH&S Solution. Secondly, as a solution to improve Workplace Safety. Thirdly, a safety checklist software solution to manage safety compliance for any industry. Use cases include:
Use Cases
Fire and Life Inspections
Equipment Inspections
Workplace Inspections
Any Checklist based inspections
EHS software
Safety Management Software
Safety Device Inspections
Emergency Lights
Emergency Equipment
Fire Safety Inspections
Fire Doors
Fire Extinguishers
Other Inspections
Life Boats
Cranes
Ladders
Elevators
Boilers
Production Equipment
Facilities
Waste Areas
Cleaning
Conclusion
IMEC's Safety Checklist Software Solution is a powerful tool. Used by safety managers, safety officers and safety supervisors. The software provides unlimited flexible inspection types. Corrective Action Management improves efficiency. Data Analytics aids reporting and compliance.
Record Safety Observations on the Mobile App. Drive employee engagement in safety. Perform facility safety tours and record Observations. Creating Corrective Actions in real time.
Reports and Dashboards within IMEC's Inspection Management Software?
There's a Dashboard Builder within IMEC's  Inspection Management Software. Customers can build their own Dashboards and Reports. The Dashboards and Reports will manage all EH&S and Safety Inspections within your company. Full training is given on the Dashboard Builder. This allows customers build their own dashboards to meet their needs.
Standard Dashboards in IMEC's  Inspection Management Software include:
Standard Inspection Dashboards
Inspection Statistics
Provides Inspections completed on Time rates.
The Inspection Activity Each month for Each Safety Device.
The Dashboards show Pass / Fail Rates for each Safety Device.
Missed Inspections
Provides an up to date list of All missed Inspections.
The Dashboard shows Location, Inspection Point and Due Date.
Results of the Previous Inspection, Pass or Fail.
Locations Overview
Shows the Inspections Completed by Location. This can be for each Inspector in Each Location.
Inspections Corrected On Site
How often are issues corrected during an inspection.
The Dashboard shows the rate items are corrected.
This is shown for each Safety Device or Equipment Type.
The Top 10 Questions on Forms that are Corrected On Site.
Corrected on site gives managers data on problems to be addressed.
Building Inspection Dashboards
Other Reports and Dashboards can be built. Manage all your inspections.
EH&S Inspections
Fire Extinguisher Inspections
Fire Door Inspections
Process Safety Inspections
Workplace Safety Inspections.
Any type of Safety Inspection that uses a checklist to collect safety data.
Report Builder within IMEC's Workplace Inspection Solution?
Introduction
IMEC's Inspection Report Builder is designed to meet customers reporting needs.  Generate your own Inspection Reports using the Report Builder. Inspection Reports can be summary or detail format. Email Reports to managers weekly, monthly or annually.
Detail Inspection Reports
Detail reports give a full view of completed checklists. A full audit trail of all inspections. Providing an auditor with the proof needed to verify compliance.
Summary Inspection Reports
Summary Reports can be for any type of safety inspection. Reports show all completed inspections within a date range. Filters such as Type of Inspection, Building or Area are available.
The Inspection Summary Report lists completed inspections. Summary Reports have tailor-able header sections for company logo and address.  Summary Inspection Reports can also be emailed on alerts.
Why Use Safety Inspection Compliance Software ?
The solution is used by safety managers and officers to:
Conduct safety audits.
Perform Safety inspections.
Report on hazards.
Report safety observations.
Update corrective actions.
Using safety inspection apps gives large time savings. Streamline the collection of data and eliminating paperwork. Promote employee engagement in safety.
Users of Safety Compliance Software Mobile Apps see large productivity gains. Efficiency of data collection is greatly enhanced. Customers complete safety inspections faster. Inspections are done in a fraction of the time. Manual recording of inspections is slow and error prone. Safety checklist software solution is 5 times faster than manual recording.
Safety Compliance Inspection solutions help customers meet regulatory requirements. Identifying areas where safety can be improved. Solutions reduce risk and make buildings safer for workers and visitors.