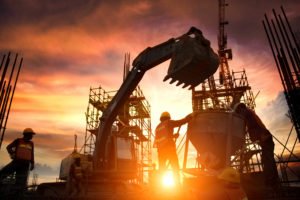 The sheer amount of injuries, illnesses and long-term health issues that can affect employees are massive, and they are all made inherently more likely if managers are negligent when implementing proper safety measures. It's widely believed that the construction industry is the UK's deadliest, according to Building Magazine, with 30 deaths in 2021/22.
When considering the HSE (Health and Safety Executive) guidance on construction worker safety – which is an effective starting point when assessing the risk of your sites – it's also important to note that the volume and severity of risks will vary from site to site. Some sites will involve contractors working at height, while others will involve a broader use of machinery or equipment, each of which presents its share of unique risks.
Therefore, it's difficult to summarise exactly how many risks will be present, but as a loose guide, consider the below advice to help you ensure optimum health and safety for your workers.
Common hazards and risks on building sites
The construction industry comprised 25% of fatal worker injuries in 2022 alone, suggesting a serious injury rate of 1.63 per 100,000 workers, almost double that of other sectors like transport and manufacturing.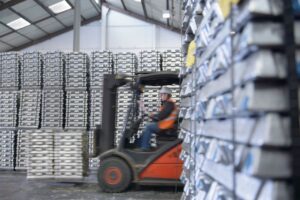 The average construction site presents a plethora of risks for employees and contractors, including:
Falls from height
Exposure to harmful chemicals or substances
Slips and trips
Machinery accidents or malfunctions
Vehicle accidents
Burns or scalds caused by fires
Tool malfunctions
Electrocution
Falling or flying objects
Structural collapses
As a construction site manager, it can be tempting to cut corners to preserve valuable budgets, but workplace injuries cannot be overlooked. You cannot put a price on personal safety and welfare. It's in your best interests to make construction site safety a priority.
7 construction site safety rules
As your construction business grows and can accommodate more customer project requests, perhaps due to optimized marketing activity, you'll need to ensure that you have sufficient people power on hand to complete jobs by the required deadlines. As the customer base grows, usually, so does the project size.
However, even if you still opt for subcontracting certain construction jobs out, that doesn't mean you should allow site safety to take a backseat.
You can contribute to promoting a healthier and safer construction site by implementing a few basic safety rules that your team must abide by. Taking these tips on board will help to minimize hazards and risks, and avoid injuries, accidents and health problems, all while posing no risk to the structural integrity of your building.
Provide clear instructions and signage. Every contractor or employee should undergo a site induction, ensuring that they are familiar with the layout, operations, and current risks. All safety rules and procedures should be explained during the induction process, with all personnel indicating that they have read and understood the signs and risk control measures. Safety signs should be appropriately placed around the site, to promote safety awareness for all employees and visitors.
Organize and tidy your site properly. Ensure that any dust, debris, tools or loose fixings are not lying around and posing a risk to any employees. Ensure that the site is cleaned every day and kept free of any clutter, with all machinery unplugged to prevent them from causing injuries or getting damaged. Proper organization will go a long way.
Use technology and tools correctly. Site managers will often use asset management software to locate all their tagged tools, machinery and, in many cases, their workers, to verify their location and access to the site. All construction workers in essence are lone workers, who will need supervision at times, particularly as it pertains to their safety. In addition, all contractors must use the correct tool(s) for each task, which is why everyone must be aware of the right processes from the outset. Misuse of tools or technology heightens the risk of injuries or accidents.
Ensure machinery and tools are inspected and tested for faults. Contractors will usually rely on their own tools to work efficiently. However, if these tools are broken, faulty or unsafe, that increases the risk of personal accidents. It doesn't matter whether it's a hand drill or a forklift, all equipment should be inspected to ensure it has no defects or is prone to malfunctions. All defects and issues should be reported to management.
Foster a culture of communication. Communication is vital in helping employees stay safe. All personnel should communicate openly with each other, and with any other party, especially if a potential risk has been identified. Onsite workers should be mindful of existing potential risks but also practice situational awareness to spot ones that could develop or materialise in time.
Wear PPE (personal protective equipment) at all times. PPE is – and should be – mandatory on all construction sites. This may merely be a high-vis jacket and a hard hat, but depending on the scale of the project, PPE may extend to include safety goggles, face masks, earplugs, protective gloves and hard-wearing boots. All workers should wear the required PPE to reduce risks and exposure to chemicals or harmful substances, loud noises, or excessive dust, sparks or smoke.
Provide employee health and safety training. Contractors that work in medium- and high-risk environments should always have the minimum mandatory construction health and safety training certificates. Most will be able to demonstrate this, but if not, they must undertake this training before they set foot onsite. If you allow untrained workers to operate at heights or with machinery without proper training, you will be risking injuries and accidents, and potential legal action as the management. As a good rule of thumb, it's always recommended that most – if not all – staff have a basic first aid certificate.
Improving health and safety on construction sites: a checklist
Construction site managers and supervisors have a moral and legal responsibility to ensure a safe workforce, as well as to ensure all jobs are correctly planned and monitored.
Some of their responsibilities include:
Conducting health and safety risk assessments.
Implementing guidelines for specific work, such as working at height.
Supplying the correct PPE, tools, equipment, machinery, and continuous training for all workers to complete the job(s) successfully and without incident.
Original Article: Ensuring worker safety and welfare on construction sites (shponline.co.uk)
Fire Extinguisher Barcode Inspection Software
Fire Extinguisher Barcode Inspection Software system can be used to manage monthly fire extinguisher inspections, annual inspections and 6 year and 12 year inspections and also general fire safety inspections. Allowing Managers to record safety observations while performing facility tours which can improve overall fire safety. A Fire Extinguisher Inspection Software system that can create corrective actions as a result of inspection failures and allocate these corrective active actions to the appropriate persons, with deadlines for resolution will greatly reduce the time, effort and cost of managing NFPA inspections. Implementing a Fire Extinguisher Barcode System, where users scan each fire extinguisher using a Mobile Fire Extinguisher Inspection Software App aids with compliance with NFPA and The joint Commission and other Authorities having Jurisdiction(AHJ's)  within Universities, Colleges, Hospitals, Medical Centers, Manufacturing, Oil and Gas and many other sectors.
Easy to Use – Fire Extinguisher Barcode System
IMEC Inspection Software is an easy to use fire extinguisher barcode system which will schedule, manage, track and report on any type of inspection, including Facility, Equipment, People etc. Use Cases include fire extinguisher barcode system, eyewash stations, emergency showers, equipment or asset inspection system or facilities inspection software. When used as a fire extinguisher barcode system Inspections are performed via the Mobile app which is available on iOS, Android and Windows devices. The user identifies the inspection point by scanning a barcode, or picking from a list based on location. The Mobile App which is part of the fire extinguisher barcode system will then display the list of custom Forms or Checklists.  The fire extinguisher barcode system inspections can be performed offline if no internet connection is available.
The IMEC Mobile Safety App can also be used as a Fire Door Inspection App and with the Web based flexible Forms Manager the solution can be used as a Fire Door Inspection Software Solution also. Fire Door Inspection Software is used is large facilities with large quantities of Fire Doors like Hospitals, Universities and also Cruise Ships.
Not Just A Fire Extinguisher Barcode System but a Complete Fire Life Safety Inspection Software Solution
IMEC Inspection Software can be deployed as a full Fire Life Safety Inspection Software solution that can be used to manage an organization's full range of fire and life safety inspections.  The IMEC Fire Life Safety Inspection Software can manage any type of inspection, use cases include Fire Doors, Fire Pumps, Eyewash Stations, Emergency Lights, Emergency Showers, Grease Traps, AED's and many more.  The IMEC Fire Life Safety Inspection Software can manage any type safety equipment or asset inspection. The user identifies the inspection point by scanning a barcode, or picking from a list based on location. The Mobile App will then display the list of custom Forms or Checklists. The solution can be used within Hospitals as a Hospital Inspection Software solution to manage all hospital inspections and Environment of Care Rounds. Hospital Inspection Software makes Daily, Weekly and Monthly Inspections more efficient and accurate. IMEC's Hospital Inspection Software allows health care and facility managers to monitor the inspections across their entire organization to aid compliance and increase efficiency.
EH&S Inspection Software
IMEC's EH&S Inspection Software can be used to manage any type of EHS Inspection and allows manager to record safety observations while performing facility tours which can improve overall workplace safety. This EH&S Inspection Software solution that can create corrective actions as a result of inspection failures for inspections performed using the Safety Inspection Software Mobile App. Corrective actions are allocated to the appropriate persons, with deadlines for resolution which will greatly reduce the time, effort and cost of managing compliance inspections. Implementing an EH&S Inspection software solution, where users using the Safety Inspection Software Mobile App can easily perform inspections in the field aids compliance, reduces risk and standardizes the inspection process within your organization.
Lock Out Tag Out Software Solutions
IMEC's Lock Out Tag Out Software Solutions allow a LOTO procedure to be defined for each piece of equipment that requires LOTO to be managed within the system. Equipment can be managed from both Mobile and Web App. Isolation points for the each piece of equipment are managed, images associated with both the piece of equipment and isolation points can be annotated to include energy source icon, arrows, sequence etc. Lock Out Tag Out Procedures can be authored using the Mobile App with version control and with an approval workflow. Lock Out Tag Out Procedures are executed using the Mobile App on any Smart Phone or Tablet. Lockout Tagout procedures are initiated by the user identifying the piece of equipment by either scanning QR Code or selecting the piece of equipment from a list. A complete history of completed Lockout Tagout Procedures is recorded. The status for the piece of equipment can be updated after LOTO is complete – Locked / Unlocked. An Audit option on the Mobile App allows a procedure to be reviewed without performing LOTO on the piece of equipment. Corrective Actions can be created for any Non-conformances or changes required recorded during the Procedure Review. Data Analytics within the IMEC Lock Out Tag Out Software Solutions provide machine downtime analysis to aid in operational efficiency and investment decisions.
Hazardous Waste Management Software
HazMat T&T is a hazardous waste management software solution designed for Environmental Service Companies and companies who generate a large quantity of hazardous waste. The solution tracks hazardous waste from cradle to grave aiding compliance, providing accurate waste inventory, increasing waste handling efficiency, reducing risk and also helps manage waste costs. HazMat T&T Hazardous Waste Management Software can be deployed in a number of deployment scenarios, from Large Hazardous Waste Generators, tracking their hazardous waste at their site to Environmental Service and Waste Management Companies using it track and manage hazardous waste at transfer and disposal sites.
IMEC Technologies provides Safety Management Software to increase worker safety and aid compliance. IMEC's Safety Management Software will manage inspections and audits, provides hazard identification, incident reporting, management of corrective and preventative actions from generation to closure. IMEC provides lock out tag out software solutions that will allow users to create lockout tagout procedures using an intuitive Mobile App and Manage Lockout Tagout Procedures, also the Review and Execution of those Lockout Tagout Procedures using the Mobile App. Annual Lockout Tagout Procedures audits are conducted using a Mobile App. The Mobile Inspection App allow users to perform inspections and audits, for example the system can be used as a Fire Extinguisher Barcode Inspection Software system to manage monthly fire extinguisher inspections and general fire safety inspections and also to record safety observations and manage corrective actions, anywhere and anytime. The solution can be used as a fire extinguisher barcode inspection software system or life safety inspection system to aid compliance in Higher Education, Healthcare, Industrial and Commercial Organizations. Benefits from a Fire Extinguisher Barcode System include the elimination of paperwork and reducing the burden of compliance with regulations such as NFPA, The Joint Commission. The Mobile App can also be used as a Fire Door Inspection App and with the flexible Forms Manager the solution can be used as a Fire Door Inspection Software Solution also. Fire Door Inspection Software is used is large facilities with large quantities of Fire Doors like Hospitals, Universities and also Cruise Ships. The Incident Reporting App allows users to easily and quickly report incidents, hazards and near-misses, these are then sent to the appropriate people for action and are managed to closure.  Web Apps provide features such as, setup, management, scheduling tools, analysis, reporting and dashboards etc with the ability to report incidents to government bodies such as OSHA and RIDDOR. HazMat T&T is a hazardous waste management software solution designed for Environmental Service Companies and companies who generate a large quantity of hazardous waste. The solution tracks hazardous waste from cradle to grave aiding compliance, providing accurate waste inventory, increasing waste handling efficiency, reducing risk and also helps manage waste costs. HazMat T&T Hazardous Waste Management Software can be deployed in a number of deployment scenarios, from Large Hazardous Waste Generators, tracking their hazardous waste at their site to Environmental Service and Waste Management Companies using it track and manage hazardous waste at transfer and disposal sites. For more information visit our website www.imectechnologies.com