Manufacturing is one of many industries that has been privy to the wonders of automation, technology, and artificial intelligence that has seen wonderous improvements in productivity, efficiency and quality.
Having said that, one of its biggest threats to stability is a lack of safety controls and standards. So, safety mustn't take a back seat.
Manufacturing facilities play a vital role in the UK.
In autumn 2022, the sector accounted for 8.1% of jobs across the whole economy. Its estimated output totals over £180 billion, with the UK being the ninth-largest manufacturing nation worldwide, according to MAKE UK.
However, despite this, the HSE reports that the manufacturing sector saw 22 fatal injuries in 2021/22, out of a total of 123 workers involved in workplace accidents.
While these numbers sound minimal in the scheme of things, the fact remains that any injury or accident is avoidable.
As a manufacturing facility manager, it's your responsibility to ensure that your employees are working in a safe environment. You also have to ensure that you implement standards and procedures to prevent workplace injury.
The types of manufacturing hazards you can expect to find vary from disruptive to catastrophic and severe.
Workers may encounter numerous hazardous situations as part of their role, but many incidents can be avoided with preparedness, awareness, and peace of mind that support is available.
Types of injuries suffered in manufacturing facilities
Slips, trips & falls
Electrical exposure
Falling objects
Stress injuries
Chemical burns or reactions
Overexertion
Unsafe Lifting
Fatigue or dehydration
Machine-related Accidents
Vehicle accidents
Many of these hazards often result in production disruption, extended periods off, illness, serious long-term injuries, or even death for employees.
With that in mind, it's crucial to understand some of the most common safety hazards that exist in manufacturing plants so that you can take steps to prevent them from occurring. So let's review some of these and provide you with some tips on how to mitigate them.
Common safety hazards in manufacturing
1. Electrical hazards
In a manufacturing facility, electrical hazards can come in numerous forms. Electrical hazards pose a severe risk to products, facilities and personnel, and mismanagement of potential hazards could result in serious injuries like electrocutions or burns, fires, and even death.
Common electrical accidents in manufacturing include direct contact with power lines, poor extension or power cord usage, and poorly maintained power sources. Electrical equipment can gradually falter over time after repeated wear and tear, or it can react when exposed to water sources, or when circuits are overloaded.
Mitigating this risk involves ensuring all electrical equipment is properly installed, configured and insulated.
Install correct ground-fault circuit interrupters and ensure that all electrical tools and equipment are inspected and tested, with any defective products identified and tagged. It's crucial to ensure that no currents are at risk of being exposed.
There are also plenty of off-the-shelf energy monitors, power analysers and fault line monitors that you can hire to assess your facility's current performance before committing.
It's also vital to ensure that all employees, whether full-time or contract, are properly trained in electrical safety and risk management.
2. Chemical hazards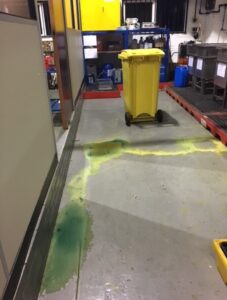 Many manufacturing facilities use chemical products in several ways. Some are used in industrial product manufacturing, while others are used to clean and maintain workplace premises.
Industrial manufacturing facilities are notorious for using poisonous or highly corrosive chemicals, which can cause severe and sometimes irreparable damage. Workers may have to work with chemicals like caustic cleaners, flammable substances like ethanol, and even products containing bleach.
Therefore, chemicals must be treated with caution. Facilities managers must provide sufficient personal protective equipment (PPE) for employees that are required to use any chemicals and ensure that all staff are sufficiently trained in categorising and handling them, as well as treating any wounds suffered.
3. Vehicular hazards
Powered industrial machines are commonly found in manufacturing facilities. These machines and vehicles include forklifts, lift and reach trucks, and extend to include vehicles in fleets.
Within a facility, however, personnel will use these machines to raise, lower, or move goods and materials, typically in large quantities.
The injuries caused by these vehicles and machines can range from minor to severe, with the root cause predominantly being improper or insufficient training.
These types of vehicles should only be operated by those with valid certifications and training, such as a forklift license training course. Typically speaking, workers will only be able to operate certain machinery once an official qualification can be obtained.
Facility managers should provide regular, ongoing training for anyone responsible for operating machinery. Supervisors should oversee employees operating these vehicles constantly, in accordance with a defined schedule of operation. The machinery should be regularly inspected, tested, and maintained for any emerging mechanical failures.
4. Machine guarding
Manufacturing facilities are required to use certain types of heavy machinery and equipment, such as guillotines, shears, radial drills, and so on.
These types of machines will typically produce protruding sparks, chips and highly dangerous rotating parts that could result in severe damage to body parts, possibly even amputation or even death.
It's not uncommon to find workers becoming complacent when operating machinery day after day, and doing so could further their risk of severe injury.
This is where solid machine guarding barriers can come in handy. With effective machine guarding, imminent safety risks are mitigated, with guards providing a solid protective barrier for workers that are in close proximity to machines.
Management should always ensure this machinery is inspected for maximum operational efficiency, but also ensure all workers are up to speed with correct procedures for safe operation.
5. Poor maintenance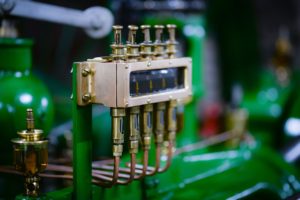 Overlooking equipment and machinery maintenance drastically increases the risk of workplace hazards and injuries. For instance, the HSE found that over the last few years, 25-30% of Manufacturing fatalities in the UK related to maintenance activity.
Some machinery, even if they are classed as failsafe, can malfunction. Therefore, even if correct steps have been followed in preparation and operation, further risks could be present if the equipment suddenly develops a fault that was previously unaccounted for.
This is why managers must ensure that professional third parties regularly conduct maintenance checks on all types of equipment.
All employees must be trained in operating, maintaining and handling this equipment in the event of an emergency breakdown, with all warning indications clearly identifiable. Put simply, poor maintenance can have a significant knock-on effect.
Clear priorities
It can be easy to baulk at the need for stringent, rigorous and firm safety procedures and precautions. They may seem draconian on the surface, however, cutting corners and ignoring safety warnings can spell disaster.
It's clear from the above that safety hazards continue to pose a serious issue to employers and workers who, unbeknownst to many, put their lives on the line by undertaking dangerous activities.
Employee health and safety is and should always be a manufacturing facility manager's number one priority. Hazard identification, control, guarding, and regular training go a long way in improving individual and collective safety across manufacturing facilities.
Original article: Five common safety hazards in manufacturing facilities (shponline.co.uk)
Fire Extinguisher Barcode Inspection Software
Fire Extinguisher Barcode Inspection Software system can be used to manage monthly fire extinguisher inspections, annual inspections and 6 year and 12 year inspections and also general fire safety inspections. Allowing Managers to record safety observations while performing facility tours which can improve overall fire safety. A Fire Extinguisher Inspection Software system that can create corrective actions as a result of inspection failures and allocate these corrective active actions to the appropriate persons, with deadlines for resolution will greatly reduce the time, effort and cost of managing NFPA inspections. Implementing a Fire Extinguisher Barcode System, where users scan each fire extinguisher using a Mobile Fire Extinguisher Inspection Software App aids with compliance with NFPA and The joint Commission and other Authorities having Jurisdiction(AHJ's)  within Universities, Colleges, Hospitals, Medical Centers, Manufacturing, Oil and Gas and many other sectors.
Easy to Use – Fire Extinguisher Barcode System
IMEC Inspection Software is an easy to use fire extinguisher barcode system which will schedule, manage, track and report on any type of inspection, including Facility, Equipment, People etc. Use Cases include fire extinguisher barcode system, eyewash stations, emergency showers, equipment or asset inspection system or facilities inspection software. When used as a fire extinguisher barcode system Inspections are performed via the Mobile app which is available on iOS, Android and Windows devices. The user identifies the inspection point by scanning a barcode, or picking from a list based on location. The Mobile App which is part of the fire extinguisher barcode system will then display the list of custom Forms or Checklists.  The fire extinguisher barcode system inspections can be performed offline if no internet connection is available.
The IMEC Mobile Safety App can also be used as a Fire Door Inspection App and with the Web based flexible Forms Manager the solution can be used as a Fire Door Inspection Software Solution also. Fire Door Inspection Software is used is large facilities with large quantities of Fire Doors like Hospitals, Universities and also Cruise Ships.
Not Just A Fire Extinguisher Barcode System but a Complete Fire Life Safety Inspection Software Solution
IMEC Inspection Software can be deployed as a full Fire Life Safety Inspection Software solution that can be used to manage an organization's full range of fire and life safety inspections.  The IMEC Fire Life Safety Inspection Software can manage any type of inspection, use cases include Fire Doors, Fire Pumps, Eyewash Stations, Emergency Lights, Emergency Showers, Grease Traps, AED's and many more.  The IMEC Fire Life Safety Inspection Software can manage any type safety equipment or asset inspection. The user identifies the inspection point by scanning a barcode, or picking from a list based on location. The Mobile App will then display the list of custom Forms or Checklists. The solution can be used within Hospitals as a Hospital Inspection Software solution to manage all hospital inspections and Environment of Care Rounds. Hospital Inspection Software makes Daily, Weekly and Monthly Inspections more efficient and accurate. IMEC's Hospital Inspection Software allows health care and facility managers to monitor the inspections across their entire organization to aid compliance and increase efficiency.
EH&S Inspection Software
IMEC's EH&S Inspection Software can be used to manage any type of EHS Inspection and allows manager to record safety observations while performing facility tours which can improve overall workplace safety. This EH&S Inspection Software solution that can create corrective actions as a result of inspection failures for inspections performed using the Safety Inspection Software Mobile App. Corrective actions are allocated to the appropriate persons, with deadlines for resolution which will greatly reduce the time, effort and cost of managing compliance inspections. Implementing an EH&S Inspection software solution, where users using the Safety Inspection Software Mobile App can easily perform inspections in the field aids compliance, reduces risk and standardizes the inspection process within your organization.
Lock Out Tag Out Software Solutions
IMEC's Lock Out Tag Out Software Solutions allow a LOTO procedure to be defined for each piece of equipment that requires LOTO to be managed within the system. Equipment can be managed from both Mobile and Web App. Isolation points for the each piece of equipment are managed, images associated with both the piece of equipment and isolation points can be annotated to include energy source icon, arrows, sequence etc. Lock Out Tag Out Procedures can be authored using the Mobile App with version control and with an approval workflow. Lock Out Tag Out Procedures are executed using the Mobile App on any Smart Phone or Tablet. Lockout Tagout procedures are initiated by the user identifying the piece of equipment by either scanning QR Code or selecting the piece of equipment from a list. A complete history of completed Lockout Tagout Procedures is recorded. The status for the piece of equipment can be updated after LOTO is complete – Locked / Unlocked. An Audit option on the Mobile App allows a procedure to be reviewed without performing LOTO on the piece of equipment. Corrective Actions can be created for any Non-conformances or changes required recorded during the Procedure Review. Data Analytics within the IMEC Lock Out Tag Out Software Solutions provide machine downtime analysis to aid in operational efficiency and investment decisions.
Hazardous Waste Management Software
HazMat T&T is a hazardous waste management software solution designed for Environmental Service Companies and companies who generate a large quantity of hazardous waste. The solution tracks hazardous waste from cradle to grave aiding compliance, providing accurate waste inventory, increasing waste handling efficiency, reducing risk and also helps manage waste costs. HazMat T&T Hazardous Waste Management Software can be deployed in a number of deployment scenarios, from Large Hazardous Waste Generators, tracking their hazardous waste at their site to Environmental Service and Waste Management Companies using it track and manage hazardous waste at transfer and disposal sites.
IMEC Technologies provides Safety Management Software to increase worker safety and aid compliance. IMEC's Safety Management Software will manage inspections and audits, provides hazard identification, incident reporting, management of corrective and preventative actions from generation to closure. IMEC provides lock out tag out software solutions that will allow users to create lockout tagout procedures using an intuitive Mobile App and Manage Lockout Tagout Procedures, also the Review and Execution of those Lockout Tagout Procedures using the Mobile App. Annual Lockout Tagout Procedures audits are conducted using a Mobile App. The Mobile Inspection App allow users to perform inspections and audits, for example the system can be used as a Fire Extinguisher Barcode Inspection Software system to manage monthly fire extinguisher inspections and general fire safety inspections and also to record safety observations and manage corrective actions, anywhere and anytime. The solution can be used as a fire extinguisher barcode inspection software system or life safety inspection system to aid compliance in Higher Education, Healthcare, Industrial and Commercial Organizations. Benefits from a Fire Extinguisher Barcode System include the elimination of paperwork and reducing the burden of compliance with regulations such as NFPA, The Joint Commission. The Mobile App can also be used as a Fire Door Inspection App and with the flexible Forms Manager the solution can be used as a Fire Door Inspection Software Solution also. Fire Door Inspection Software is used is large facilities with large quantities of Fire Doors like Hospitals, Universities and also Cruise Ships. The Incident Reporting App allows users to easily and quickly report incidents, hazards and near-misses, these are then sent to the appropriate people for action and are managed to closure.  Web Apps provide features such as, setup, management, scheduling tools, analysis, reporting and dashboards etc with the ability to report incidents to government bodies such as OSHA and RIDDOR. HazMat T&T is a hazardous waste management software solution designed for Environmental Service Companies and companies who generate a large quantity of hazardous waste. The solution tracks hazardous waste from cradle to grave aiding compliance, providing accurate waste inventory, increasing waste handling efficiency, reducing risk and also helps manage waste costs. HazMat T&T Hazardous Waste Management Software can be deployed in a number of deployment scenarios, from Large Hazardous Waste Generators, tracking their hazardous waste at their site to Environmental Service and Waste Management Companies using it track and manage hazardous waste at transfer and disposal sites. For more information visit our website www.imectechnologies.com